The Eugene School of Karate
Reach Your Full Potential with ESK
The ultimate aim of karate lies not in victory or defeat, but in the perfection of character of it's participants.

― Gichin Funakoshi
---
The Eugene School of Karate is one of Oregon's most innovative and successful karate institutions. We combine ancient martial arts disciplines with modern teaching methods to develop mindful, disciplined, and motivated students with an indomitable spirit!
Teaching Martial Arts and Life Skills Since 1992
Sensei Albert has been studying karate since he was a young child. He's taught karate almost as long, first alongside his instructors, and starting in 1992, at his own studio in Eugene, Oregon.
A career educator, Sensei combines the best of modern teaching methods and traditional martial arts instruction to promote both your child's physical and mental growth.
About the Eugene School of Karate
Speaking and Training Engagements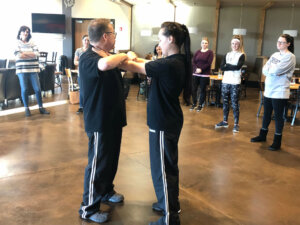 Sensei Albert is available to present to groups about his self-defense and life skills programs. Contact us to set up a presentation for your club, group, or school.
The mere act of honing a skill week in and week out creates a foundation for our students. They develop self-control, compassion, commitment, long term positive relationships and the ability to be goal oriented.
We hope you'll join us at our facility to experience the extraordinary benefits we offer! Through professional instructors, quality equipment, innovative curriculum and effective instructional methods, we present the martial arts to children and adults of all ages, in a format that is both educational and enjoyable.